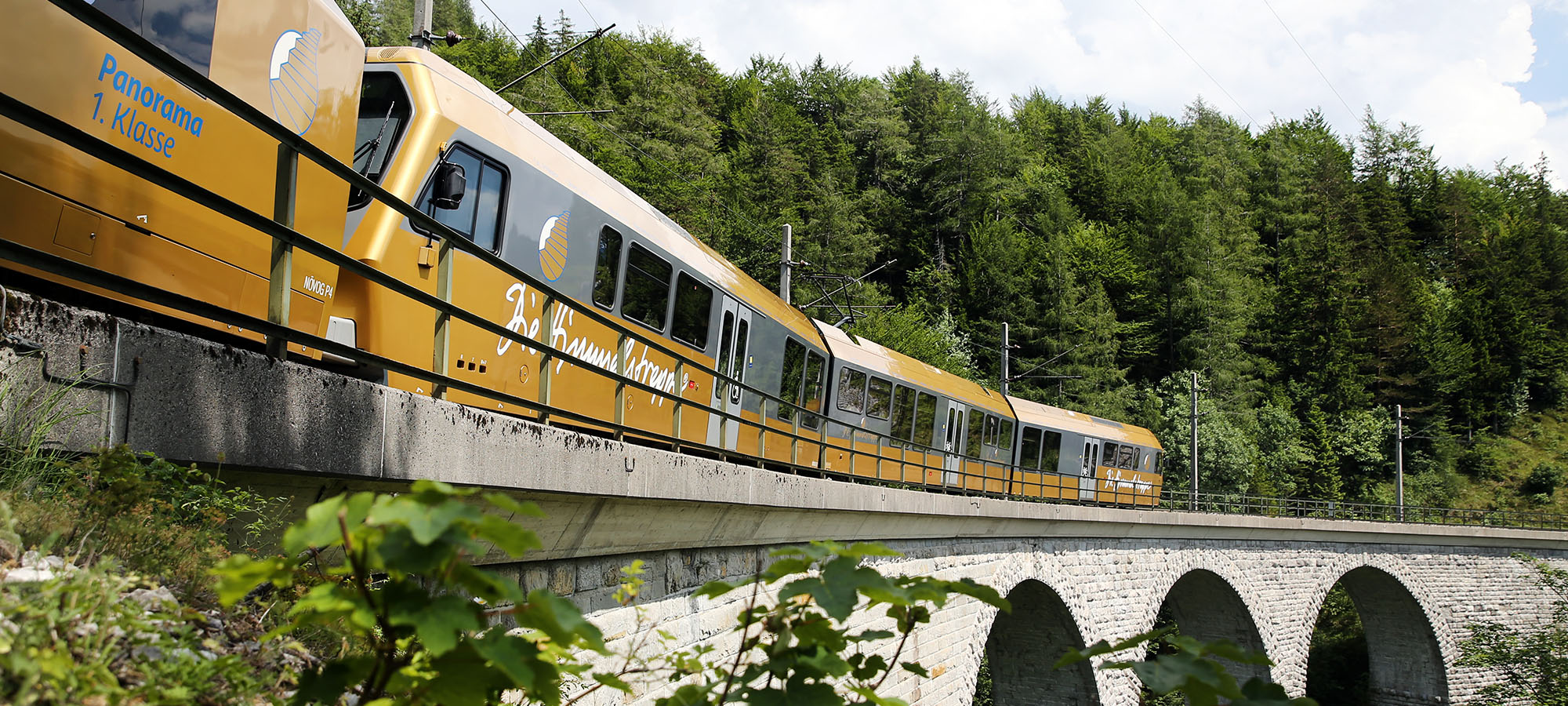 NB-Weinfranz.at

Train Journeys & River Cruises
Mariazellerbahn
The Most Beautiful Combination of Technology and Nature!
On an 84 km track, the Mariazell Railway connects the provincial capital, St. Pölten, with the 
Pielach Valley, the Ötscher-Tormäuer Nature Park and the Styrian place of pilgrimage, Mariazell. 
In the modern low-floor trains known as the "Himmelstreppe" (Stairway to Heaven), you can travel particularly comfortably. The journey is made all the more pleasant with its modern interior, air conditioning and the passenger information system onboard.
A particular highlight is to travel first class in the luxurious panoramic carriage: The generous panoramic windows, the catering service with local meals and drinks, and the comfortable leather seating all make this journey an unforgettable experience. 
In addition to the rail journey, there are extra highlights on the themed journeys such as the Culinary Delights Trains or the Dirndl Valley Musical Express. The hiking trains bring you comfortably through the Ötscher-Tormäuer Nature Park. Special trains are organised on the Mariazell Railway to bring you comfortably to large events, such as the Pielach Valley Dirndl Festival or the Mariazell Advent.
The Operations Centre Laubenbachmühle contains a train station, workshops, a coach house, a bistro and the Operations Management Centre. During the tour you can take a look behind the scenes and learn everything worth knowing about the history and operations of the Mariazell Railway. Takes: 45 min
You can find the timetable, information on prices and discounts, as well as photographs and much more at: www.mariazellerbahn.at
Make sure to check out these top atractions in the area: