Hunt for hidden treasures.
The TOP 53 Lower Austrian Attractions of 2023.
The 2023 TOP 53 Lower Austrian Attractions will make sure you have a varied, as well as, a high-quality range of getaways  – whether on land or water, atop a mountain or in a valley. Exciting exhibitions, adventurous natural parks, historic abbeys, monasteries, fortresses and palaces all promise unforgettable moments for the whole family.
This amazing selection of 53 attractions couldn't be more different.
There is something there for everyone's taste from train journeys & river cruises, to fortresses, palaces & castles, culinary experiences, garden worlds & theme parks, museums & exhibitions, abbeys & monasteries. In case that is not enough, we have hot springs & spas, animal, nature and national parks on offer, as well.
To help you find your way through this "Jungle of Attractions", we have added a map of the TOP Attractions. There is a digital and printed version.
Only certified attractions guarantee a 100% experience!
In 2002 a special seal of quality was developed to recognise an attraction in Lower Austria as a TOP Attraction. This award, that guarantees the highest quality, has been given to 53 TOP Attractions in Lower Austria. They have proved themselves by attracting about four million visitors a year. The diverse offer ranges from natural and theme parks, abbeys and monasteries, fortresses, palaces and castles, museums to mountain railway tours and cruise lines. To guarantee the high standards and quality requirements, a list of specifications and quality criteria has been defined by the TOP Attractions Team.
TOP Lower Austrian Attractions' Mobility Card 2023
Compact and clearly redesigned
An overview of the 53 TOP Attractions – the most beautiful train and bike routes, as well as, boat landings – with the details of each individual destination
Simply practical and comfortable
 
Niederösterreich-CARD:
Free entry to over 350 destinations
By bringing a Niederösterreich-CARD you have free access to over 350 tourist attractions in Lower Austria, Vienna and its surroundings. Explore castles and palaces, enjoy a day in the mountains by railway or on a ship on the Danube river, discover museums and art galleries or wander national parks and zoos – all for free for a year … There is so much to discover with the CARD!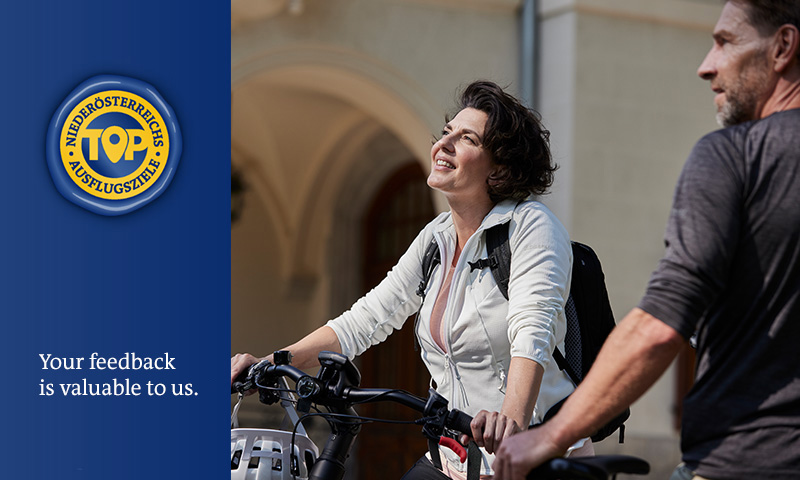 Top Lower Austrian Attractions:
We care about what you think!
The TOP Attractions admit to strict quality guidelines. To continually develop and improve the quality, it is important to know our guests' opinions. Do you have any questions, suggestions or criticism, please write to us. Constructive criticism is very important to us, so you can continue enjoying worthwhile excursions!